Following the performance with the reading of the poem by Mr. Joep Dorren who came to Japan from the Netherlands in the summer of 2017 in Tokyo, Sanae Kagaya of the Butoh company "TOMOE SHIZUNE & HAKUTOBO" will perform with Mr. Joep in German this summer. We are going to perform reading by the poem of Mr. Joep, Butoh, music composed by Antoine Boiger and video.
We plan to make it possible to see the performance on the Internet.
There is also a time difference, therefore it would be appreciated if you could take a look at it if you have a convenient time. Also, if you would like, I would be glad if you could give us your impressions after the performance through video phones etc.
We are planning to make Internet broadcast available in real time and on demand.
And we will announce the schedule of the performance to the following. We would be pleased if you could tell us if there is a schedule that could be viewed.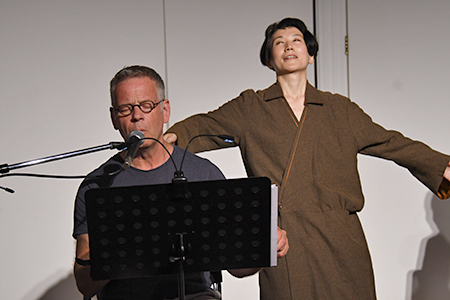 1) The 4th Artist Biennale "THE BIG SLEEP" (Munich / Germany)
- July 25th, 2019 Start: 20:00 pm at Germany
(Japan time: July 26, 2019 Start 3:00 am)
- Program Summer 2019 "JULIDCHKLANG" (July Roof Sound)
- Program: "the Hill", "Zeami"
Sanae Kagaya (Butoh), Joep Dorren (Poetry reading, Actor), Christoph Nicolaus (Stone Harp)

2) KLANGRAUM 2019 "day to day" (Dusseldorf / Germany)
- Program: Kitan
- Five days/July 30 (Tue), 31 (Wed), August 1 (Thu), 2 (Fri), 3 (Sat), 2019
- Start 16:00 pm at Germany (Japan time: Start 23:00 pm)
* About 50 minutes of performances are scheduled.
- joep dorren (concept, actor), antoine beuger (composition, flute), sanae kagaya (butoh), els van riel (film), germaine sijstermans (clarinet), seamus cater (concertina)

3) August 4 (Sun) 17:00 start (Japanese time 24:00):
- Program:
"Zeami"
(Music:Antoine Bolger、Joep Dorren (Poetry reading, Actor)、Butoh:Saane Kagaya
"the Hill"
Poet:Rovert lax, Joep Dorren(Poetry reading, Actor), Butoh:Sanae Kagaya, Music:Germain Sijstermans


---

- Internet Broadcast (YouTube Live)
We plan to deliver live to the following URL during the performance time.
https://www.youtube.com/channel/UCpZiVp_cy-qZ6Qlq-rrH3MA
* Please note that the video may be degraded or the video or audio may be interrupted depending on the line status.

Also, I would be pleased if you could give us your feedback after the show. Please comment on email, facebook etc.
e-mail:info@officetomoe.co.jp
Facebook: https://www.facebook.com/tomoecom/

We hope you will enjoy the show in Germany together.